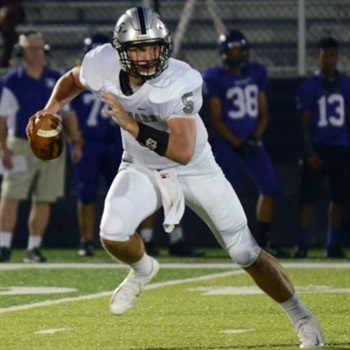 One of the most overlooked traits when evaluating QB's is mental and physical toughness because it relates directly to the will to Win. When I met Will Phillis and his father Bill it was easy to determine that he had the requisite physical qualities to warrant Division 1 consideration, especially after breaking down the majority of his game film from the 2016 campaign. But if there is one thing that I am certain of is that there are always multiple layers that can be researched as to assist in the prediction of future success.  Will is a perfect example as to why further analysis is absolutely necessary and deals directly with the ability to handle adversity.
Will and I have kindred spirits in a way in that we both lost our mothers to cancer at a very young age, Will even before me when he was barely a teenager just trying get life figured out.  I remember the struggles I had all too well losing Millie Schembechler in 1992. But I can tell you how those struggles in many ways made me the man I am today, most importantly to make the most of every day and be fearless in the pursuit of success.  Will is no different and probably is further ahead than I was back then;  all you have to do is talk to him and watch how he deals with others with innate leadership qualities.  He leads and others follow, it's as simple as that.
Let's go back to 2015 when he sustained a foot fracture in the middle of the season which would have shelved most QB's.  Will missed one week and played essentially at a fraction of his true ability to lead his team into the playoffs.  This is how toughness in the truest form is revealed and is what leadership is all about. When leaders are faced with adversity, they find ways to overcome it and it literally raises their teammates, their program and their school to a level that they did not know existed.  And yet Will deflects that credit to the benefit of his Team.
I think that the coaches at Kent State know and understand this rare phenomena that is about to step foot on campus in a few short months, but they really won't know until they see it in action every day. Let this be a forecast of what is to come and enjoy how this story unfolds.  Good luck Will, show them what you got!
Welcome to the Golden Flashes – QB Will Phillis from Hilliard Bradley HS #GoFlashes ⚡️ #FutureFlash #NSD17 pic.twitter.com/hD5ribBO10

— Kent State Football (@KentStFootball) February 1, 2017